Having a pet dog is a lot more fun then I realized it could be! This is not to say that Bubbles has not been a pet, but she is an older dog, and I wasn't able to drive/buy things for her when she was younger; so I'm having fun now.
But I miss puppy raising, and being able to take my dogs in the store with me! I have to keep reminding myself that Texas cannot go inside places with me!!
I have decided to try Wellness dog foods with Green Beans and Carrots tossed in for some healthy fillers.After checking out which stores carried this brand, after work yesterday, Bubbles, Texas and I set out to check out prices, and variety.
Our first stop was Blaze N Skyy located in our downtown area. I knew the street on which it was said to be located, but had yet to see the actual building for it. So I parked on street over, leashed up the dogs, and we started walking.
Texas is still learning to walk on a leash, and had to stop and sit frequently, or dash ahead yelling at people walking by. I could just see Bubbles just rolling her eyes. Once we made to the shoppe there was a Pomeranian in the window, barking at us; I didn't see any "Pets Welcome" sign so I hurried on past.
I went back to my car, loaded the dogs up and drove back to the business; unfortunately they were out of Wellness Healthy Weight, which I"m looking to put Bubbles on; and no puppy food either. *sad face*
But I did find something very interesting.
As a puppy walker, I have to carry a lot of things with me, because we are constantly going and doing. Midnight was 9 weeks old when she first came to my college classes, which meant I was carrying toys, food and water bowls, food for mid-day meal, extra collars (Gentle Leaders, Martingale, and a whole host of others), pick up bags, extra leashes, Camera, paper towels, Tie-Down, treats...the list goes on and on. As well as my backpack, laptop and Purse.
Why so much? Well lets just say, its better to be prepared then un-prepared.
It was ridiculous, and I have been on the search for a bag, that could hold ALL of my things (minus the school books) until today.
Introducing the
Everything But the Dog Carry All Bag.
While I'm still debating on whether or not I'll keep it (it was none too cheap); it is very roomy!
It comes with two collapsible bowls, a freezer pack and a huge indoor/outdoor blanket. (now if only I could refold it!!).
Some parts of the bag design I think could use improvement, over all it is a great bag. It has eight DEEP and ROOMY pockets, and its zipper is open ended so you are trying to shove things further down in the bag to close it!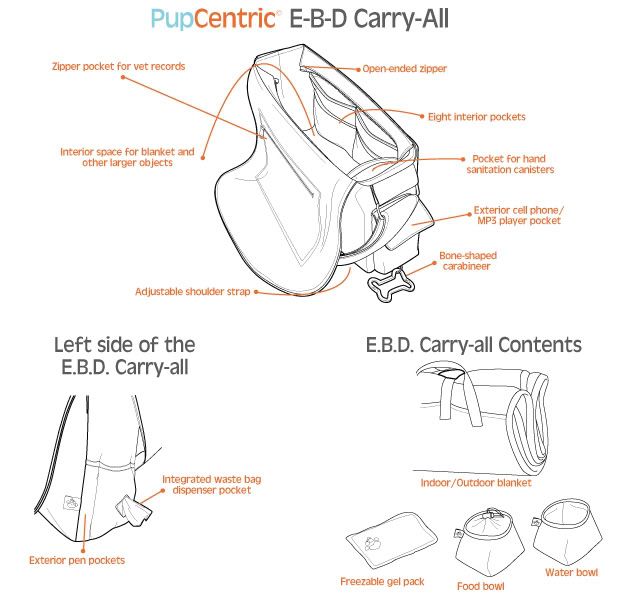 After about 5 minutes of debating, I grabbed it and bought it without a fifth thought; now that is home, I'm sort of regretting it, due to the price; but after some internet shopping, I find that I actually got a good deal!
I quickly left before I could be talked into buying any other high priced item. :D Um..yeah talking myself into buying another high priced item.
Our next stop was equally hard to find, as it was set in a strip mall, and didn't have a sign on the road. So I flew on past it, and had to come back. Unfortunately their selection was tiny as well. But the owner gave Wellness a great review as well, say all of his dogs has reached lost weight and were not at a healthy level; and from the looks of them they were!
I browsed around a little and got out WITHOUT buying A THING! Woo!
Once our other errands were finished, I stopped by the park to walk the dogs; and then we headed home. My camera was acting up so you don't get to see the cute pictures of Bubbles and Texas together.
Today I decided to give the 'ol E.B.D bag a test run; I loaded up with my "gear" and Texas and I set off to my neighbors house.
(We..I am feeding the cat while they are gone)
Even though It was jam packed, it wasn't overly heavy and I could bend down to deal with Mr. Speedy Gonzales with out it sliding over my head to whack me.
The biggest issue for me was getting into the bag; the flap is right up against your body so you can't open it all the way with out doing some contortions; it would be great if perhaps the flap wasn't there at all!
But anyways. Today on our walk, we worked on loose leash walking, come command, and my "Stay with Me" command for when he is off leash. He picks it up so fast its astounding!!
Ours is a private neighborhood, so I felt comfortable dropping the leash and walking away.
I would make him "sit" (treat) and drop the leash and say "Ok", so that he knows that I don't have the leash anymore.
He took of running happily, until he realized I wasn't at the other end of the leash, then he stopped for a second to look at me, before tearing back to my side.
I of course rewarded him for this behavior and told him "good stay by me"; as I want that too be the key words for him to come back in my area. Midnight was great at this, although I never specifically taught her that's what I meant.
Afterward, I stuck around the house and procrastinated, so I WASN'T able to go to the other two places to check out their food selection; but hopefully tomorrow. (heh.) Texas will be the first to try out the new food, as his bag is the lowest now, and as soon as Bubbles gets finished with this round of IAMS she too will be on the Wellness diet.
I kind of feel silly to be this excited over dog food! But I'm ready for Bubbles to be at LEAST a couple of pounds lighter then what she is, and Texas, not to get there at all!